Excuses are good; really good. Because, if you've got a plausible excuse, then you're safe… you don't need to do anything; you don't need to risk anything.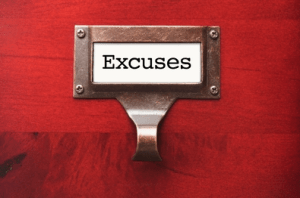 If you want to do, be or have something more for yourself; if you'd like your life to be different; if you'd like your health to be better; or if you'd like a job that makes you happy; or a relationship that makes your heart soar; and you've got an excuse… well, then, nothing really is required of you.
You can just sit tight. Stay comfy. And let the clock run out.
Or not.
The Biggies
Here are the excuses I hear most frequently from clients:
It's not the right time. "I'm too old, too young, too fat, too out of shape. I need to save up some more money; I need to wait for the promotion or partnership or bonus; I need to wait until the kids are out of school; I need to wait until my partner retires or I retire; or… ."
The truth is: It's NEVER the right time. There are ALWAYS obstacles. There are ALWAYS hurdles to jump; there are ALWAYS challenges to overcome.
Now is the only time you have. Tomorrow is promised to do one. Goethe says, "What you can do, or dream you can do, begin it; Boldness has genius, power and magic in it."
I could never do that. I'm not brave enough; fast enough; strong enough; fit enough; smart enough; wealthy enough; creative enough; ___________ enough.
I could never do that. I'm not enough.
It's one of our core insecurities as human beings: That I'm not enough.
It's why we strive. It's why we have the Sistine Chapel and rocket ships and the computer and smartphones… because we achieve, we strive… because we forever strive… for more. But the worry that we're not enough also stops us short; holds us back.
But we're already enough. All we need is within us already.
Everyone starts from the same place. A Mozart, a Picasso, a Marconi; and some even start from hugely disadvantaged places: a Lincoln, a Mandela, an Oprah.
No matter where you start, you have enough – you are enough – to go the distance.
It will take too long. It will take 4 years for the degree; 7 years for the residency; 6 months to train for the race; a year to lose the weight; 3 to write the book; and who knows how long to find the 'right one.'
So what? Who cares? The clock is ticking. The time will pass; whether you take the next step; or not.
It may well take you three years to launch your new business; but the three years will come and go even if you never launch.
Greatness takes time. The overnight success has spent many a sleepless overnight. And while maybe you won't need 10,000 hours to sharpen your skills, you still need to put in the effort.
Opportunity often disguises itself as work; and work worth doing – legacy work, generational work, world-changing work – often takes a long time.
It's too big; too hard. It's complicated, confusing, overwhelming, I can't figure it out. I don't know where to research it; I don't know who to talk to; I don't know what to do next.
Even highly successful, highly accomplished professionals labor with this excuse. The more expert we become in a particular area, the more daunting it is to venture into a new one. We like the familiarity of our own turf.
And even highly successful folks have 'blind spots.' They may excel in the business life and struggle in their relationships; their finances might be stellar and their health in the toilet.
Too, we live in a culture of overwhelm. There's so much flying at us all the time. We suffer from information overload. We resist wanting to take in more.
But what we need to remember is that every journey starts with a single step. Every ultra I've run, every mountain I've climbed… no matter how long or how big gets finished by taking one step… and then the next.
We want to see the entire way. But we don't need to. "Take the first step in faith," Martin Luther King, Jr. said. "You don't need to see the whole staircase; just take the first step."
In every endeavor, every business venture, every fitness goal, every financial objective, every marketing campaign, every piece of research, it's just one step at a time.
And the hardest one is the first one. So just take it!
It's too risky. I don't want to fail; I don't want to lose my job; I don't want to lose money; I don't want to get hurt in another relationship; I don't want to get injured. It's too dangerous.
This is the most pernicious excuse of all because it seems to make so much sense. Why take unnecessary risks… why put yourself in harm's way?
Guess what? Life is dangerous. None of us gets out alive.
I have a buddy who has been on Mt. Everest twice; summitted once. He shattered his leg cleaning out the leaves from the gutters on his one-story house.
We like to believe in stability; in constancy. But the only thing that is constant, the only sure thing is that things will change.
Businesses collapse, partnerships fail, marriages come unraveled, layoffs happen, people get sick, markets crash. And as much as we like to maintain an illusion of control, we really don't have very much at all.
Our comfort zones are called comfort zones because, well, they're pretty damn comfy. But what's true is that the magic happens just beyond. Our greatest breakthroughs… our very best lives… are just outside that place of comfort. Life rewards those who risk.
What's Next?
So excuses are good; in fact, they're great… if you want to stay stuck. Not so much if you want a big life. The stories we tell ourselves are just that: stories. It's as easy to make up a small story as it is a grand one.
Grand is better.
What are your favorite go-to excuses? And what will you do now?